It felt strange, almost wrong, putting my kayak on my car yesterday morning when it was 39 degrees out, and likewise packing sweaters and gloves in my dry bag instead of sunscreen and bug repellant. More than the discomfort, or at least adding to the discomfort, is the fact that cold weather in Florida is just so confusing, really. In all of my Colorado winters with thermometer mercury dipping into the negative 30s, it still made sense. I was in the snowy mountains of Colorado after all! But here? I look around and see green grass and flowers and palm trees and it just feels... wrong.
But luckily my desire to kayak on a quiet, narrow creek without having to play bumper boats with hordes of clumsy canoeists overrode my desire to stay in a cozy cocoon of blankets and dogs and I managed to pull through my lethargy.
So I loaded up my gear, grabbed plenty of hot coffee, and headed off to the Ocala National Forest to pick up my copilot Jenn who was staying at her boyfriend's family's cabin in the woods.
That's right, not only does Jenn live in my dream house in Saint Augustine, she gets to stay at a cabin in a National Forest whenever she wants, too. What an asshole. AND she wasn't even ready to go when I arrived after an hour of prep and almost 2 hours of driving. Total asshole. But she made me espresso when I arrived and her boyfriend made me eggs, so I loaded up her little bitty kayak into the back of my car and we headed off to unload the kayaks at Juniper Spring and run shuttle to Juniper Wayside..
Since we were in no major hurry, we had to check out all the springs before finally setting off to paddle down the creek they feed. The main spring, Juniper, is lovely and is a swimming area, though unsurprisingly no one was swimming in it yesterday. The millhouse above is situated at the spillway and was built by the Civilian Conservation Corps in the 1930s.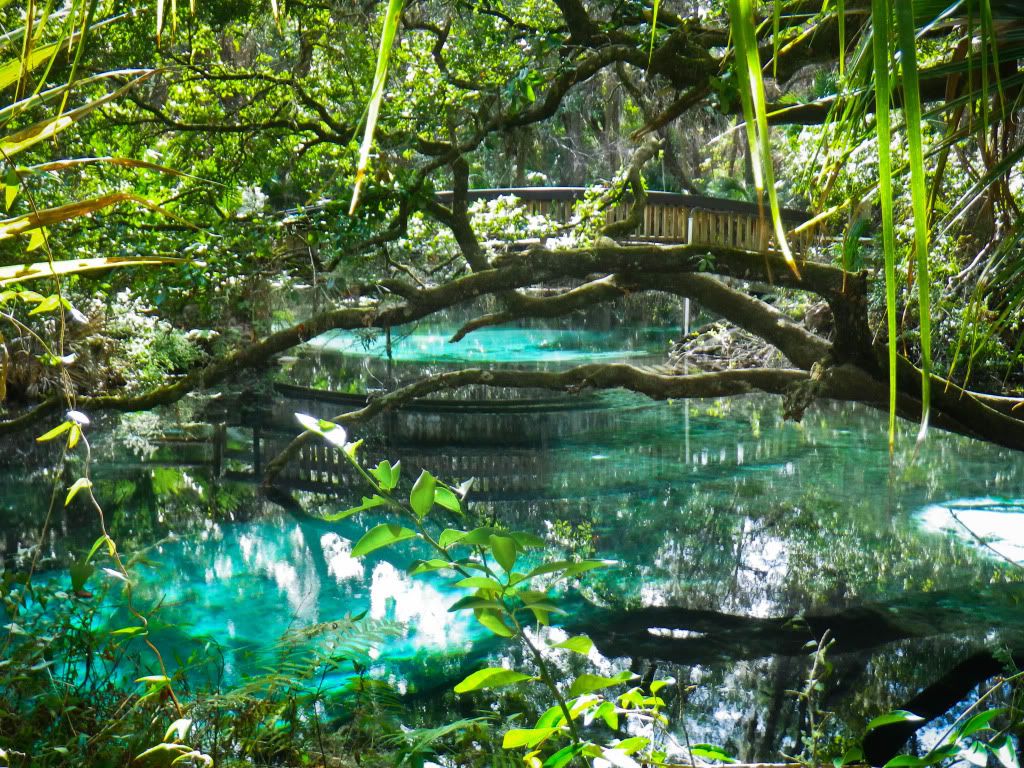 A short boardwalk leads you from Juniper Spring to Fern Hammock Springs in the top photo and the photo above, which are some of the most beautiful springs I've yet to see anywhere here. It's not that I've even seen any non-beautiful springs, per se, I think maybe I just love seeing springs that haven't been turned into paved swimming pools for all the loud and abrasive yokels that seem to frequent them en masse in the warmer months (though I know Dave has seen people swimming illegally here despite all the signs stating that it's an ecologically sensitive area, which seriously pisses me off).
There was one swimmer here, though. And I wasn't about to get in his face for disobeying the signs. And dammit he was so close, I don't know why I couldn't get a better photo of him!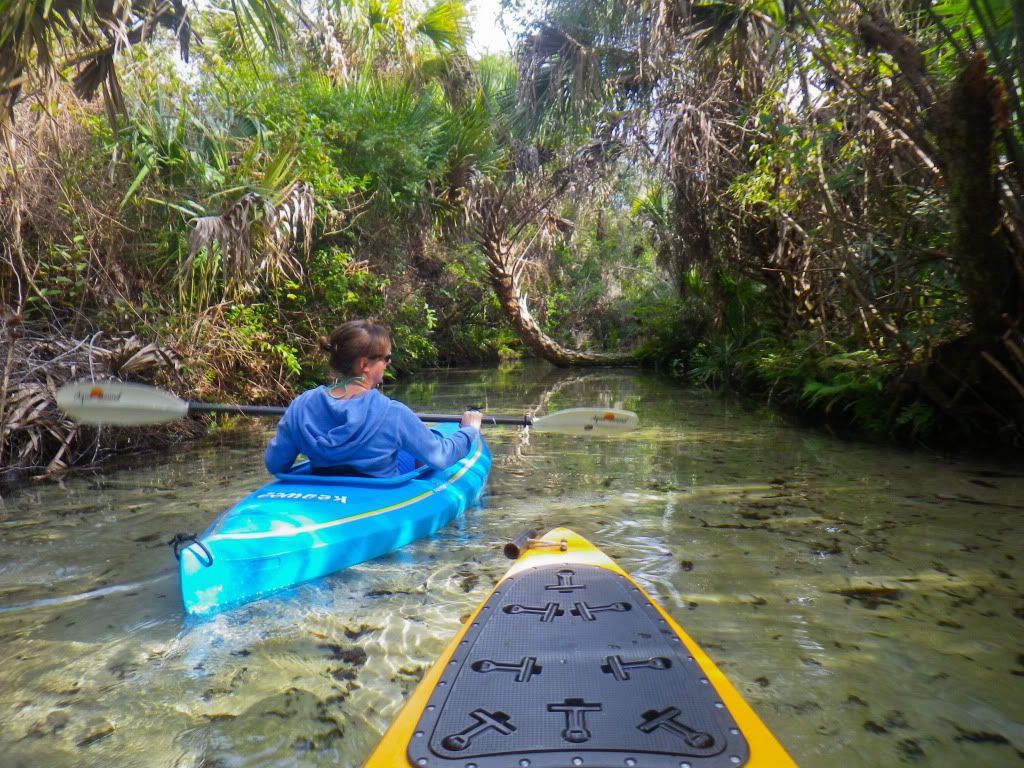 We finalllly set off after procrastinating for a very long time in a very pretty area...
The water was so clear and beautiful and the foliage just seemed to envelop the creek in this stunning canopy. It doesn't matter how many times I kayak spring-fed creeks like this, I am always taken aback by the fact that they exist at all and that I'm allowed to play on them. They're just so damn special. I kept imagining what it would be like to stumble upon a clear spring or spring run like this before it was turned into state lands. I'd stop everything in my life and bury any dreams I may have had to just build a little cabin and never ever leave. All of which got me thinking, how and why are there no cabins or settlements on Juniper Creek when it was only established as a wilderness area in the 1980s? A quick Wikipedia search led me to this:
In the 1840s, Patrick Smith settled in the Juniper Prairie Wilderness in an area which became known as "Pats Island". Reuben Long and his family homesteaded in the area in 1872. Around the turn of the 20th century, human population on Pats Island peaked with about a dozen families. The inhabitants supported themselves through farming, hunting, fishing, and trade along the St. Johns River. Because of the poor economic conditions, most inhabitants had left the area before it became part of the Ocala National Forest in 1908. In 1935, the last inhabitants abandoned the area after a settlement history of less than 100 years.
Call me naive, call me what you will, but I don't think any economic conditions could drive me away from living here if I had the chance.. It's paradise, plain and simple.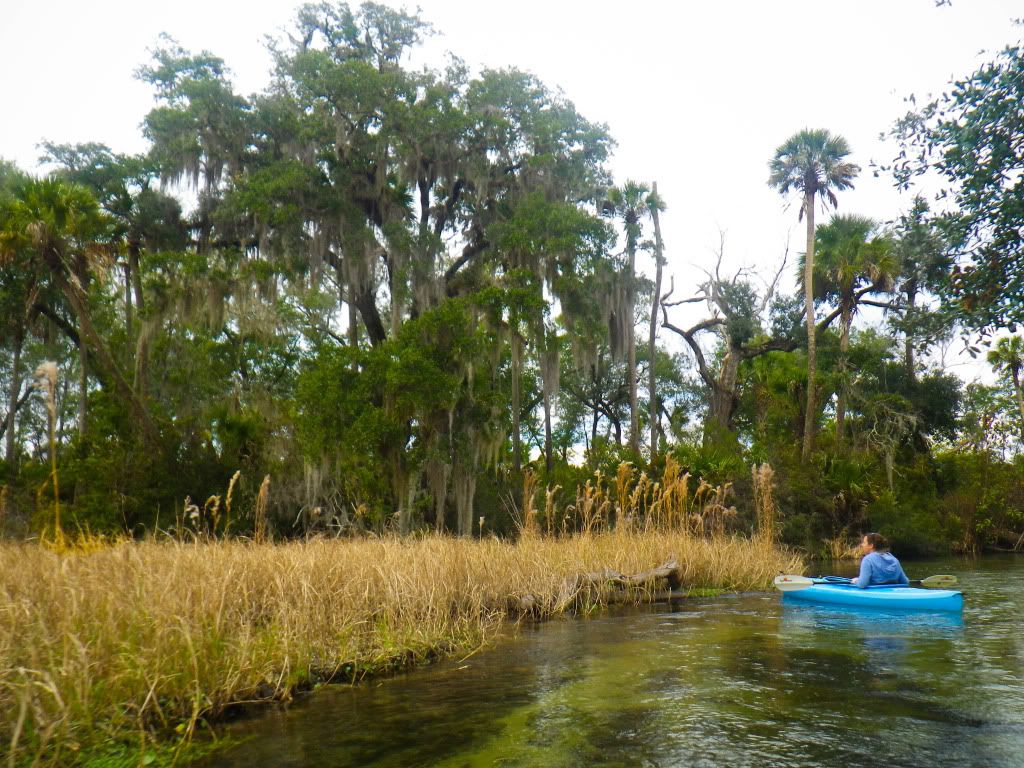 While the lower stretches, as seen above, widen a bit into the prairie, most of the creek is narrow and winding. This has led to nicknames like "Divorce Alley" for all the unsuspecting couples who head out for a romantic day in nature on a canoe, because navigating a canoe on a creek like this almost inevitably leads to frustration and arguing. We only saw 6 people on the creek the entire 7 miles, and we still managed to see a couple capsize a canoe around a sharp curve. You'd never get me in a canoe on this creek (or most other places for that matter), that's for sure!
As we neared the final stretches of creek just before sunset, we saw a good number of deer. They were not exactly frightened of us whatsoever despite that it's hunting season all around them. Luckily they seems to know they're in a wilderness area and can't be touched, but it always bothers me when animals have clearly become accustomed to humans and don't know anything about the artificial boundaries that keep them tentatively safe.
But all that aside, it was a beautiful day, and so needed during the stressful holiday season. It's relaxing to spend time in one of the few areas in Florida that I can't get cell phone service..
P.S. If you didn't notice, I actually said (in detail) where I was in this post, which I never do because I'm an admittedly pompous asshole who doesn't like sharing my favorite places with any random person who stumbles on this site. You're welcome. Merry Christmas